Dating Tips and Relationship Advice
Workaholics & Dating: Finding Time For Relationships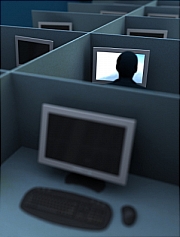 Today, many people succumb to the pressures of working and maintaining a home, and time for leisurely activities tends to fall to the backside. There is no doubt about the fact that people need to work. Without hard work and taking the time to ensure that you perform your job well, you will never succeed in life. To be a hard worker takes time, there's no questioning that. Staying busy and active are qualities that employers look for and can ultimately result in promotion. On the job, it is a good thing to stay busy, work extra hours, and ensure that your job is performed thoroughly and efficiently. However, there is a point when simple "busyness" becomes obsession.
The commitment to performing a job "well done" can quickly lead to striving, over accomplishing, and a fierce competitive spirit that quickly overshadow everything else in life. The product is a workaholic that finds very little time for outside activities. When someone becomes completely absorbed with work, his or her home life is the first to suffer. Putting in extra hours, losing sleep, and canceling personal commitments are the sting of the workaholic bug. Unfortunately, this can lead to many difficulties when someone begins dating.
If you've found yourself too busy to even think about a social life, you aren't alone. In fact, some of the world's most financially successful people are in the same situation. It takes time to have a relationship and make sure that it works well. Balancing the juggling act of work, love, and personal time is a gravity-defying stunt, yet once you get your footing; you'll discover that you can manage it with flying colors. Here are some tips that will help you break free from the office long enough to enjoy relationships again.
The first rule is very simple. You just have to force yourself to make time for dating. No ifs, ands, or buts about it. Put your foot down and insist that when you make a date, you will keep the date. Schedule yourself a night on the town and turn the cell phone off. You must make a firm commitment not to be interrupted with work or other distractions and focus your attention on your date. Both you and your date deserve to spend the time together uninterrupted and without the added burdens of the workplace. Do whatever you need to and make sure that you spend that time with your date and without the distractions of work.
The key to making sure that your relationships work is in setting your priorities straight. You must assess your life and make time for the most important priorities. It may come as a surprise, but other people should be on the top of your priority list. Making time for family and friends is not only a way to spend leisurely time, but it will help reduce the stress in your life and keep you healthy. No man or woman is an island and people need to spend quality time relaxing and enjoying other people's company. Make a resolution to take time away from the office and enjoy the company of those who value you and want to spend time with you.