Dating Tips and Relationship Advice
Top Qualities Men Look For In Women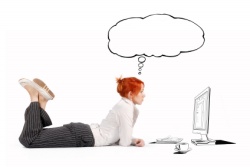 It seems women are always trying to figure out men. They never seem to know what men are looking for in a woman. From makeup and beauty tips to mannerisms, women often struggle with the concept of what men are looking for. Often, the focus becomes directed at physical appearance, and many women go through a number of concerns on outward looks. However, when it really comes down to it, men are looking for more than just a pretty face. Of course, this is an enhancement to the package, but if a woman has a terrible attitude, her man won't stick around for very long. Here are the top qualities that men look for in women.
First, men look for women that have positive outlooks, cheery dispositions, and beautiful smiles. No one wants to be around a woman who is grumbling, complaining, or miserable and men are no exception. Men are attracted to women who are happy, smile, and know how to act pleasantly. When you first meet a man that you are attracted to, be sure to flash him a dazzling smile, and show off your sense of humor. You'll be amazed at how attractive he'll find you to be.
Men may realize that they want a lover, but a smart woman understands that a man needs his partner to also be his best friend. If you want to be the apple in your man's eye, you will need to let him know that he is your best friend. Not only this, but you should also let him know that you respect and value his opinion. One of the best ways to accomplish this is by being a great listener. The more you listen to what your man has to say, the more he'll believe that you really are attracted to him. The fastest way to shut your man down is to ignore him or not listen to what he has to say. This doesn't mean dozing off while he's talking with the occasional, "Yes, ok, sure…" either. You need to acknowledge what he is saying back to him, and let your body language express the fact that he has your undivided attention.
Finally, it would be erroneous to think that men aren't attracted to physical beauty. No matter what your best or worst features are, a smart woman knows how to enhance her best characteristics and minimizes her flaws. This can be accomplished through make-up tricks and tips. This isn't your usual make-up application either. If you browse through make-up artist books, you'd be amazed at what type of tricks you can learn. You can minimize a large nose; make close-set eyes appear larger. Blend scars, or even hide birthmarks. With a little bit of time, and practice, you can conceal any flaws that you have and maximize your best features. Additionally, men are attracted to women by the way they dress. Taking the time to find the clothes that best compliment your natural shape is one of the best ways to stand out from the rest of the crowd. However, once you realize how important inner beauty is to a man, you'll find that working on those characteristics should be the priority.