Dating Tips and Relationship Advice
Can Taking A Break Strengthen Your Relationship?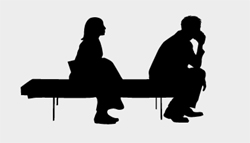 When two people are involved in a committed relationship, it doesn't take very long before all of the fun, dazzle, and romance begins to wear off. Once this happens, couples may discover that they have many differences and begin arguing and fighting. First, it should be stated that the feeling of "being in love" never lasts. This is a proven scientific fact. All of the hormones, forgetfulness, and constant thoughts of each other lasts roughly the first two years of being "in love". After that, reality sets in and people begin to see each other without the rose colored blinders – faults and all.
It may be tempting to take a break in your relationship if you have been seeing each other exclusively, and then begin arguing and quarreling frequently. However, before deciding that this is the best road to travel, you will need to take some things into consideration. The first area to consider is that once you and your partner take a break, either one of you may decide to end the relationship. This is a serious reality and one that you should really consider before agreeing to take a break. However, most people agree that when one party feels that it is time to take a break, they have already been contemplating ending the relationship. So, with that in mind, if you absolutely do not want to end your relationship, you may want to discuss other options with your partner.
Before agreeing to take time off of your relationship, you may want to suggest seeing a counselor. A counselor can help you work through the issues that you are facing and can provide greater results than you can achieve by taking a break.
You should also realize that if you and your partner have unresolved issues, taking a break from your relationship would not solve them. If you have been fighting frequently, and want to take a break, when you get back together your problems will still be there. This is another reason why seeing a counselor is more advantageous than taking a break. If your relationship is to grow stronger and thrive, it is better to take care of the issues that are causing strain and disagreement, rather than avoiding them.
Sometimes, the idea of taking a break from a relationship seems like the best solution, however it may just be a way of running away from the real issues at hand. It should also be considered that the fact that you want to take a break might be a warning sign that your relationship has reached its end.
Finally, there is truth to the statement that separation makes the heart grow fonder. If you have tried counseling, and continue to fight, and aren't sure if you should end your relationship or not, you may want to agree to take a break. If you find that your heart is longing for the other person and you both agree to reunite, your relationship may be stronger than it ever was before. However, you should both be prepared for the possibility that your break may be the first step to the end of your relationship.